The site for certification of Bluetooth-devices has information on a new tablet Huawei MediaPad M5, which apparently already at CES 2018. At the same exhibition, there will be an announcement of smartphones Huawei Mate 10 and Mate 10 Pro for the US market.
Judging by the data on the network, this is an 8.4-inch tablet with a screen resolution of 2560 × 1600 pixels . The Kirin 960 chipset was chosen as the hardware platform, and the Android 8.0 Oreo with the EMUI 8.0 shell is responsible for the software part.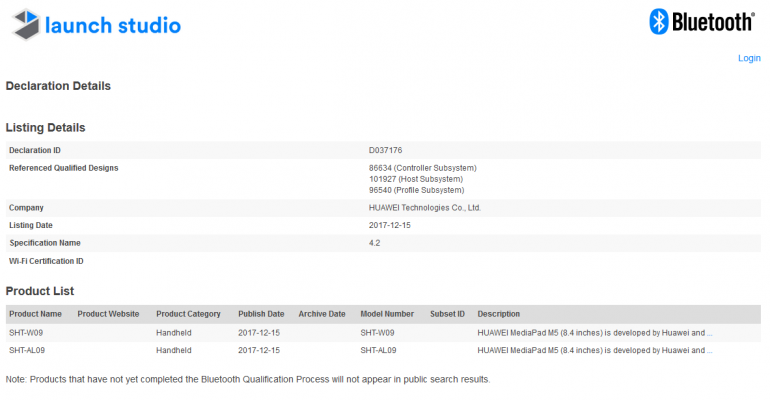 The novelty is likely to get an aluminum casing, stereo speakers, a fingerprint scanner, and a standard audio jack and USB Type-C port. In the model lineup, Huawei MediaPad M5 will take a place higher than its predecessor Huawei MediaPad M3, but will keep a fairly affordable price tag around $ 350. But the Huawei MediaPad M4 model probably will not see the light at all for the reasons typical for Asian companies.
Recall that the Huawei MediaPad M3 tablet was introduced at IFA 2016, it was equipped with an 8.4-inch display with a resolution of 2560 × 1600 pixels , An 8-core Kirin 950 processor and a complete battery of 5100 mAh. The amount of RAM was 4 GB, and the capacity of the built-in storage is 32 GB or 64 GB. And in the current year, new Huawei MediaPad T3 tablets with a screen diagonal of 7, 8 and 10 inches appeared on the Ukrainian market.
Source: Gizmochina