IDC Research Company released data on tablets sales in the third quarter of this year. During this period, companies put on the market 40 million devices, and all representatives of the top five (except for Samsung) increased their share due to smaller players. In comparison with the same period last year, the tablets entered the market by 5.4% less, then the company sold 42.3 million copies.
The iPad tablet line helped Apple strengthen its leadership in the rating – 10, 3 million tablets, which is exactly one million more than last year. Apple's market share increased from 21.9% to 25.8%, and the annual growth was 11.4%. Eternal rival Samsung has thrown all the forces of the mobile unit into the smartphone segment, which is not the best way to reflect on its results. The Koreans managed to sell only 6 million devices – 0.5 million less than last year, reducing their share to 15% (-7.9% year on year).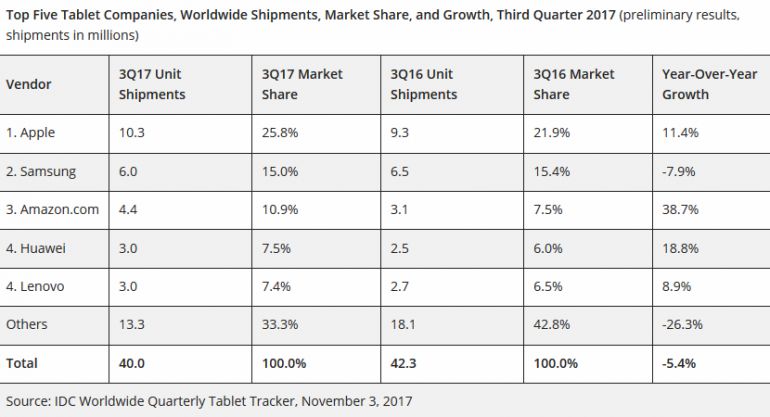 Absolute figures of Amazon look not as impressive as the pair of leaders – only 4.4 million tablets, but given the fact that last year it sold only 3.1 million devices, the growth was very noticeable 38.7%. As a result, the market share of Fire tablets increased from 7.5% to 10.9%, for which it is worthwhile to thank both the aggressive pricing policy with numerous promotional discounts and the set of content available to Amazon users.
Top 5 companies are closed with the same 3 million tablets. And Huawei and Lenovo managed to show higher figures than last year, taking a share of about 7.5% and showing growth of 18.8% and 8.9% respectively. Both producers focused on the budget segment, having won potential buyers from numerous Chinese companies, which is clear from the results of other manufacturers – an annual drop of 26.3%, a drop in the market share from 42.8% to 33.3% and 5 million less sold tablets (13.3 million versus 18.1 million a year ago).
Source: IDC