AMD recently introduced its new APU Athlon 200GE family of Raven Ridge family for entry-level systems. And now the resource Techspot published the results of testing this most affordable chip based on the Zen architecture.
Let us briefly recall the characteristics of the APU Athlon 200GE, which is manufactured according to the standards of the 14-nanometer process. This is a 2-core chip that supports the processing of 4 instruction flows. The processor carries on board the graphics core Radeon Vega 3, 5 MB cache and built-in memory controller DDR4-2933. The chip operates at a nominal frequency of 3.2 GHz. The device has a TDP of only 35 W. The cost of the Athlon 200GE is only $ 55. Such a chip is aimed at using in home systems used by students for browsing, running office applications, viewing multimedia content and even running casual games.
To run more resource-intensive games such as Fortnite, Star Wars Battlefront II, Counter-Strike Global Offensive , DOTA 2, Overwatch, etc., you need to set the graphics resolution to HD, and reduce the quality to medium or minimum. In this case, the APU Athlon 200GE processor provides quite comfortable frame rate at the level of 30-40 per second. At the same time, the chip is confidently ahead of the competitor in the face of Intel Pentium G4560, which, moreover, costs more – $ 64. You can see the test results for each game in the following graphs.
In test packages and real applications, the Athlon 200GE can no longer always outrun the competitor. This can be seen in the following graphs.
But the novelty is very economical, and under load the system based on this chip consumes less power than the system based on the competitor, although at rest AMD processor still loses 2W Intel chip. [19659007] 1 "/>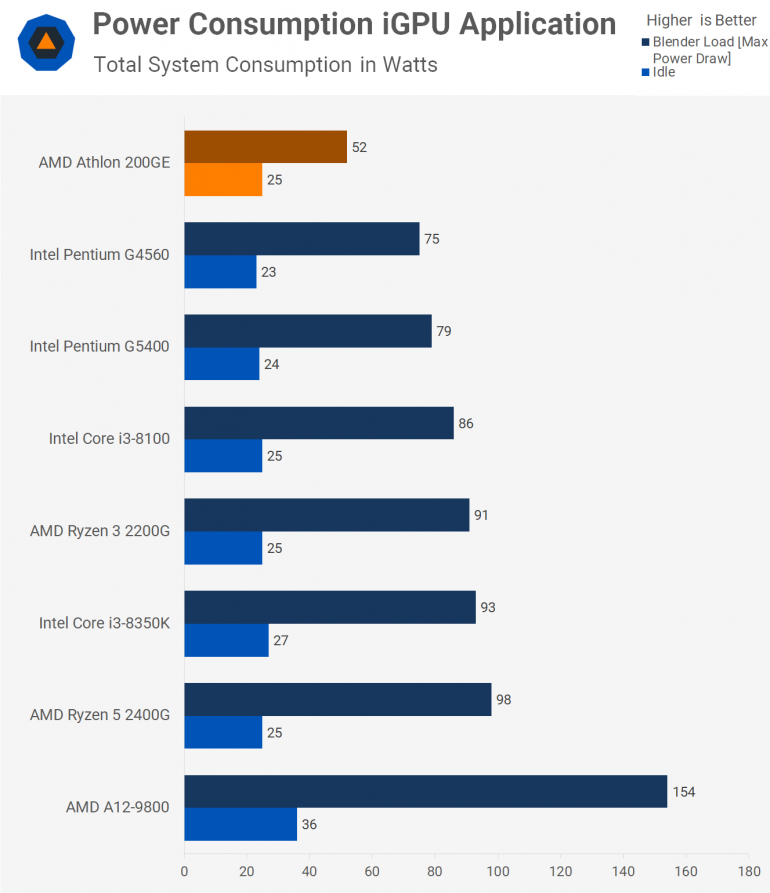 Moderate power consumption and low power dissipation allow the APU Athlon 200GE processor to be used even with a passive cooling system. For example, using a passive Arctic Apline AM4 cooler, this chip heated up to 34 degrees Celsius in idle time and up to 74 degrees Celsius under maximum load and with no airflow.
We add that the cost of creating an APU Athlon 200GE system will be significantly lower, than on the basis of Pentium G4560. In the first case, the processor and motherboard with the A320 chipset will cost about $ 105. The Pentium G4560 will require a motherboard based on the H310 chipset, and the total cost of the motherboard will be about $ 130.
Source: Techspot