While Intel is just preparing to introduce the line of processors Coffee Lake Refresh, El Chapuzas Informatico has already tested and published a review of one of the more not published novelties. We are talking about the engineering sample of the Core i7-9700K chip, which the journalists managed to get for their own tests.
Recall that the Intel Core i7-9700K has eight cores without multithreading support, 12 MB of L3 cache memory and runs at a frequency of 3.6 up to 4.9 GHz in Turbo Boost mode. The nominal TDP of the novelty is declared at 95 W, and its lid is soldered securely to the semiconductor crystal with the help of Solder Thermal Interface Material (STIM).
An unknown motherboard on the Intel Z390 chipset came out as the basis of the test bench, and the CPU company was a two-channel set RAM DDR4-3600 produced by G.Skill and MSI GeForce GTX 1070 Gaming Z graphics card. To remove heat from the processor, a non-serviced Corsair H80i GT with 120mm heat sink was used.
Below in the gallery there are a lot of diagrams with the results of testing Intel Core i7 -9700K per floor synonymous benchmarks and games. Testing was conducted using WPrime 2.10, Cinebench 15, 3DMark Spy Time, x264 Benchmark, as well as games Battlefield 1, Doom, Far Cry 5, Resident Evil 7, etc.
During the tests, the maximum temperature at a voltage of 1.2 V was 70 ° C, and the power consumption at the nominal frequencies, depending on the load, ranged from 160 to 240 W (with automatic adjustment of the CPU voltage).
As you can see, in the tests the Intel Core i7-9700K processor due to the presence of eight physical cores without Hyper-Threading bypasses the Intel Core i7-8700K (6 cores / 12 streams, 3.7 / 4.7 GHz), although the superiority is on the average below 10%. At the same time, in some tests the novelty slightly loses to the older AMD Ryzen 7. But now it's too early to make final conclusions.
As for games, everything is predictable here. As you know, games are rarely optimized for multithreading, so on the horse is someone who can reach higher clock speeds. And then Intel Core i7-9700K demonstrates superiority. However, given the fact that its price for the European retailer is set at € 440, another question is whether many will agree to shell out such a considerable amount for this superiority.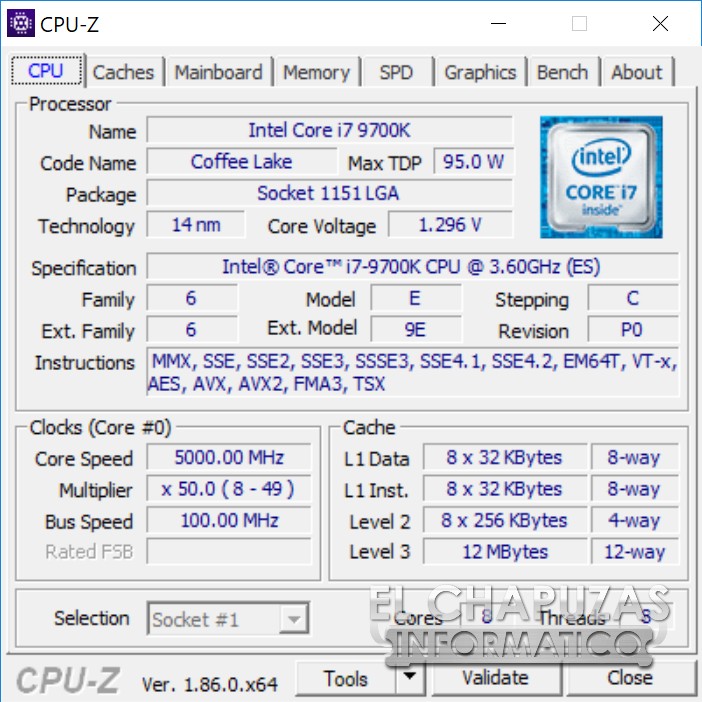 The high-accelerated high-speed game is played by Intel Core i7-9700K potential thanks to the use of solder under the lid. The source managed to overclock the processor to a frequency of 5 GHz with all active cores, setting a voltage equal to 1.4 V (CPU-Z displays an incorrect value of 1.3 V). This is probably not the limit of the overclocking capabilities of this model.
Source: El Chapuzas Informatico