Yesterday AMD officially introduced the second generation of AMD Ryzen Threadripper processors for high-performance desktop systems (HEDT). And although before the announcement we knew almost everything about the new processors, now we have official information, so we are obliged to tell you about it.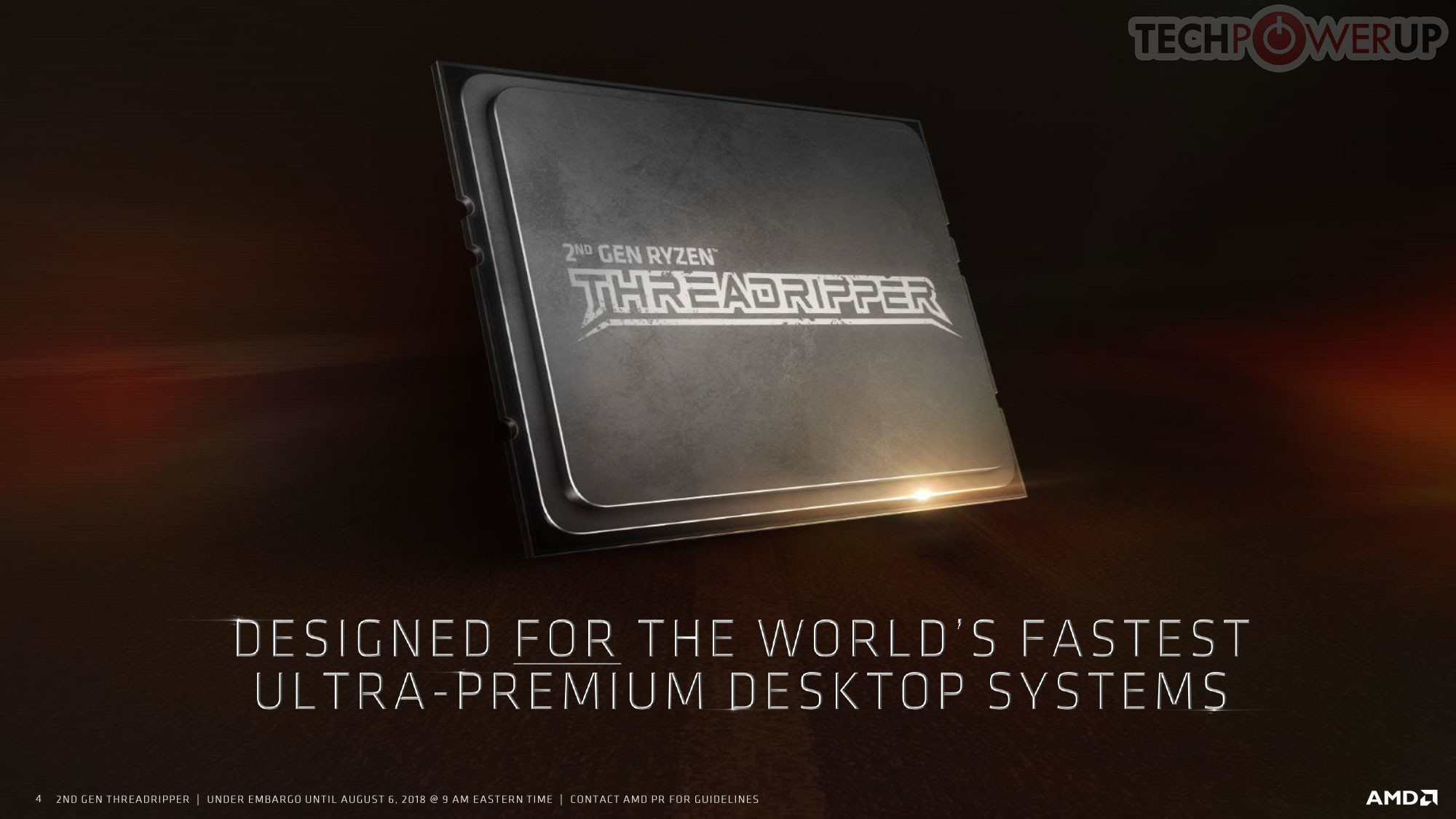 So, as expected, AMD presented four models of new generation HEDT processors. [19659004] Processor
Number of cores / threads
Nominal frequency / Boost, GHz
Cache memory L3, MB
TDP, W
Number of PCI-E 3.0 lines
Recommended cost, USD
Released
AMD Ryzen Threadripper 2990WX
32 (64)
3.0-4.2
64
250
64
$ 1799 [19659005] August 13
AMD Ryzen Threadripper 2970WX
24 (48) [19659005] October 2003
AMD Ryzen Threadripper 2950X
16 (32)
3,5 -4,4
32
180
64
$ 899
August 31
AMD Ryzen Threadripper 2920X
12 (24)
3,5-4,3 [19659005] 32
180
64
$ 649
October 18
As you can see from the table above, the characteristics and prices of new products turned out to be exactly the same as reported in earlier leaks
]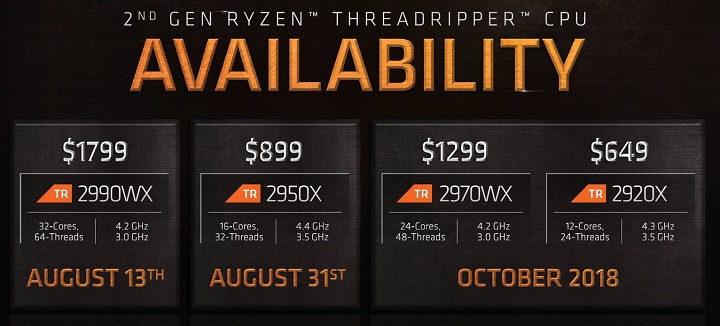 But now we also know the exact date for the release of new CPUs, pre-orders some stores opened just yesterday before the official announcement. Previously, the flagship 32-core AMD Ryzen Threadripper 2990WX will be available for sale on August 13th. After it, the 16-core Threadripper 2950X will hit the retail market on August 31st. The two remaining models will be available only on October 18.
Finally, as for the performance of new products. Yesterday we learned that the Ryzen Threadripper 2990WX in the Cinebench R15 test is ahead of the Intel Core i9-7980XE by as much as 53%. Now there are a number of slides comparing the pairs of Threadripper 2990WX and Core i9-7980XE and Threadripper 2950X and Core i9-7900X in different benchmarks, you can see the results below.
In the press release AMD separately emphasized that it managed to overclock 32-core Threadripper 2990WX to 5.1 GHz using liquid nitrogen, after which the CPU completed the Cinebench R15 with a result of 7618 points.
Recall, AMD's second-generation Ryzen Threadripper processors are based on the Zen + microarchitecture, nm technology standards and inherited the design of S ocket TR4, which allows them to be used with commercially available motherboards for the first generation Ryzen Threadripper.
It remains to add that the Ryzen Threadripper 2000 will be shipped in a new package with a large transparent window.
Source: AMD