Analysts Jon Peddie Research (JPR) summed up the results of the second quarter of 2018 in the GPU market and concluded that for the manufacturers of discrete video cards (add-in boards) this three-month period was extremely lean. As follows from the report, the video card shipments in the form of standalone cards (AIB, add-in-board) in quarterly terms sank by as much as 27.96%. According to analysts, this steep pique is explained not so much by the seasonal factor (in the second quarter, demand is usually weaker than in the first), but by a decrease in the interest of producers of crypto-currency to video cards and specialized accelerators based on AMD and NVIDIA cores. Simply put, miners no longer have any impact on the graphics card market.
In annual terms, the market shrank by 4.9%. At the same time, the reduction in the desktop segment was 6%, in the notebook segment – 5%.
"Demand for desktop graphics adapters, which were previously actively used in crypto currency" farms ", returned to normal. We believe that there is no more market for discrete graphics cards for mining, and probably this is our last mention of it, "the JPR said in a statement.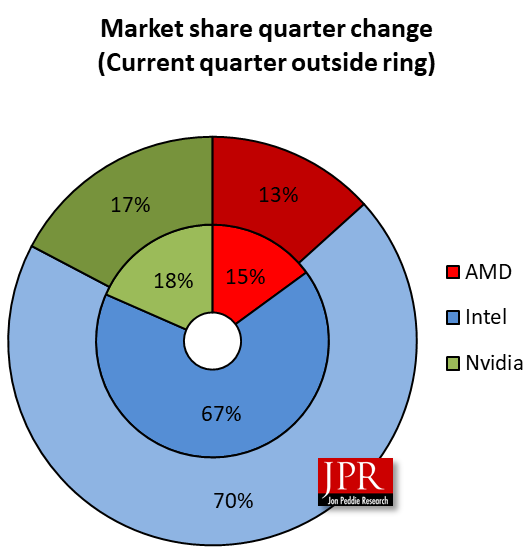 The strongest of all this return rate was affected by the company AMD, whose supplies in quarterly terms sank by 12.28%, as a result of which its share decreased from 15% to 13%. In NVIDIA, too, the negative consequences of the decrease in interest from the producers of crypto-currencies were felt – the supply of "green" fell by 7.49%, while the share fell to 17%. Intel, which continues to be the undisputed market leader (it's time to note that JPR data includes both discrete and integrated GPUs) even managed to increase shipments by 2.62%. According to the results of the quarter, Intel's share was 70%.
Other interesting data contained in the report include the following: the PC market grew by 1.9% for the quarter and by 2.04% in annual terms, with 32.8 % of all PCs shipped during the quarter were equipped with discrete GPUs.
Source: JPR