Experts from the analytical company Jon Peddie Research (JPR) following the overall assessment of the global graphics market in the second quarter of this year year released a separate report specifically on the supply of discrete graphics accelerators for the same period.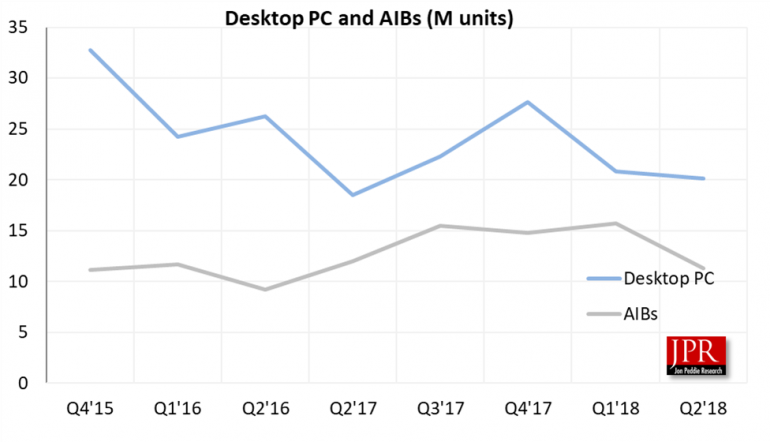 According to analysts, for the second quarter of this year, 11.3 million discrete graphics accelerators were sold worldwide. This corresponds to a decrease in annual terms of 5.7%. Interestingly, the PC market for the year increased by 8.8%. The paradox is easy to explain – the video cards have ceased to be of interest to the miners, thanks to which the producers recently rolled like cheese in oil. If compared with the previous quarter, then the fall is altogether 28%, whereas on average in the last 10 years the reduction was 9.8%. In monetary terms, the market amounted to $ 3.2 billion

As usual, against the background of a contraction in the market, there is a redistribution of shares between its participants. AMD, which held 34.9% of the market in the first quarter, is now satisfied with a 30.9% share. Of course, these 4% that AMD lost, graciously picked up NVIDIA, which now controls 69.1% of the market. Thus, now the distribution is approximately the same as it was last year, when the share of NVIDIA was 69.7%, and AMD – 30.3%. Given that the new GPU is not foreseen by AMD in the near future, and NVIDIA recently released new GeForce RTX gaming adapters, it becomes obvious how the situation on the market will continue to develop – NVIDIA's separation from AMD will only grow. Break the obvious course of events is quite Intel's power, but the "blue" plan to go to the discrete graphics segment only in 2020.
Source: JPR