Intel today introduced a massive upgrade of mobile and desktop platforms, introducing several categories of new products. For desktop PCs, the company expanded the range of classic Coffee Lake models, added economical versions with a 35W TDP, and also launched a series of the most affordable Pentium Gold and Celeron chips. Not less expected was the presentation of new Intel 300 chipsets that lower the threshold for the entrance to the platform with Intel Core 8-th generation processors.
Replenishment in the rows of processors Coffee Lake
The manufacturer expanded the desktop line of processors Coffee Lake. The series of 6-core Core i5, originally represented by the Core i5-8600K and Core i5-8400 chips, has now been replenished with the Core i5-8600 (3.1 / 4.3 GHz) and Core i5-8500 (3.0 / 4.1 GHz). While the Core i3 sided Core i3-8300 (3.7 GHz) to 4-core, which received 8 MB of L3 cache memory as well as the top model of the family – Core i3-8350K. Another interesting part of this model is TDP in 62 W, ​​instead of 65 W for other chips of the series.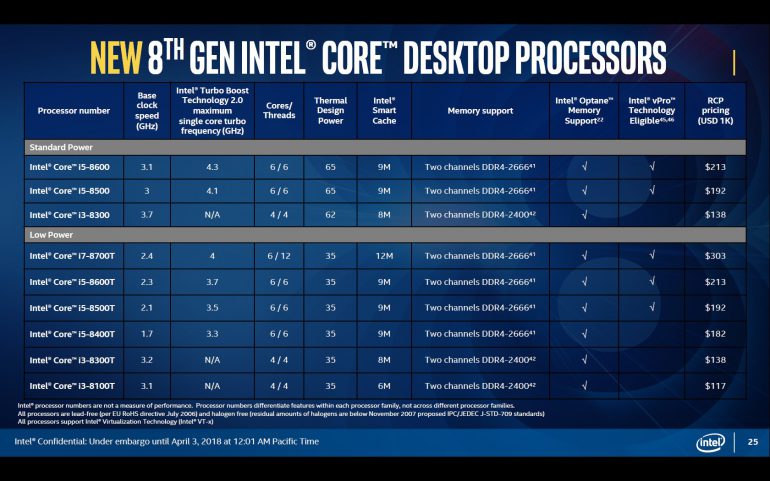 As for the cost of new models, Intel does not change its price grid here. Values ​​are similar to those for similar chips of the previous generation. It remains only to recall that in all the lines of Coffee Lake, the number of computing units has been increased by one and a half times. All desktop Core i7-8xxx offer 6 cores of 12 streams, all Core i5-8xxx have 6 cores, and all Core i3-8xxx have 4 cores.
Intel also presented six economical versions of processors from various rulers. Chips with the index "T" in the name of the model fit within the thermal package of 35 W, instead of 62-65 W, typical for conventional modifications. Savings are achieved by lowering the operating frequency and voltage of the processor. Doubtful use for classic desktops, but for compact platforms and monoblocks such modifications can be very even just right. Such devices often do not allow themselves to do dunkling and downvolting, which for sure someone has already thought of. The cost of economical versions of processors corresponds to that for classical versions of chips, so there is no overpayment, as well as the opportunity to save money. Simply, these CPUs are designed for special tasks. Until now, only chips of previous generations were offered in a 35-watt package, now such models exist in the composition of Coffee Lake.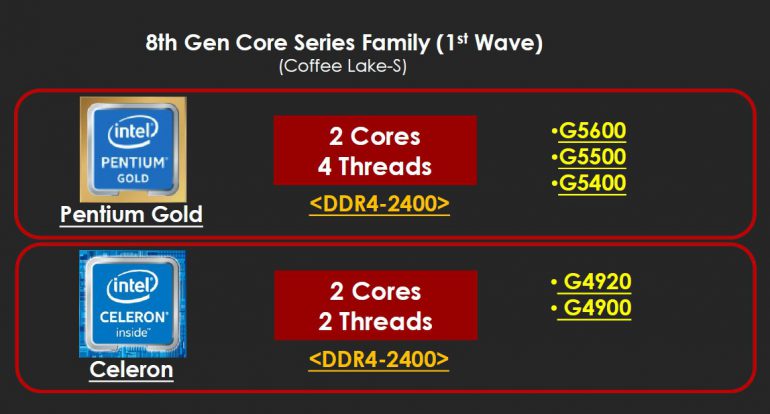 In addition to classic Core chips, the manufacturer also offered basic models of the Pentium Gold and Celeron lines. To recall the value of the legendary brand, now with its name will be next to the designation Gold. The series at the launch includes three models – the G5600 (3.9 GHz, $ 86), the G5500 (3.8 GHz, $ 75) and the G5400 (3.7 GHz, $ 64). All processors have 2 cores, and Hyper-Threading support allows them to process up to 4 data streams simultaneously. The cache memory is 4 MB. The chips can work with DDR4-2400 in two-channel mode.
The Celeron family at the first stage is represented by two models – Celeron G4920 (3.2 GHz, $ 52) and Celeron G4900 (3.1 GHz, $ 42). "Thoroughbred" dual-core processors work with DDR4-2400 memory, are equipped with 2 MB L3 and fit within TDP 54 W.
Intel H310 / B360 / H370 / Q370 Chipsets
The desktop also received a long-awaited update. First of all, we note the launch of a line of new chipsets – Intel H370, Intel H310, Intel B360 and Intel Q370. Here there were no surprises, at the same time, leaks were confirmed, according to which some new PCHs received an integrated USB 3.1 Gen2 controller (10 Gb / s). In addition, all chipsets received support for Integrated Intel Wireless-AC technology, which potentially simplifies the organization of high-speed wireless connection (up to 1733 Mb / s). The manufacturer also once again recalled the support of Intel Smart Sound technology, because you can expect that the capabilities of the built-in DSP will be used more often in practice.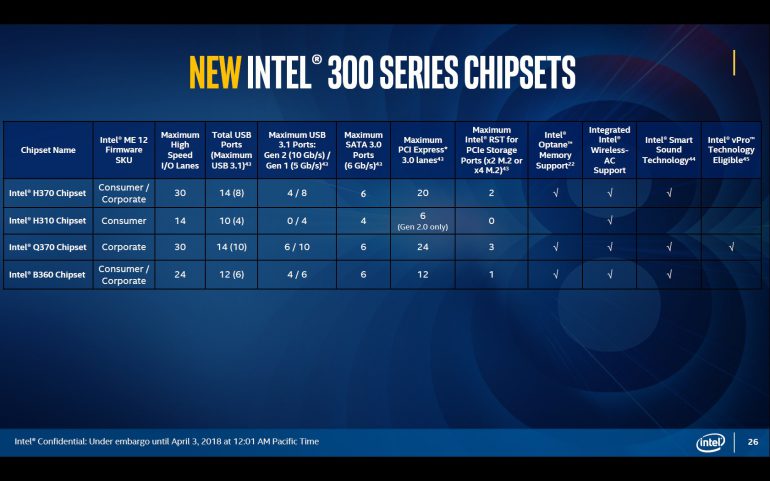 The base chipset for the Coffee Lake processors becomes Intel H310 . Evaluating the specification of PCH, we can say that this is the minimally improved version of the long-lived Intel H110. The total number of I / O lines is increased from 10 to 14, plus the support of Integrated Intel Wireless-AC. Otherwise, the functionality is preserved. These are the same 6 lines of PCI Express 2.0, support for 10 USB ports, four of which can correspond to USB 3.1 Gen1 (USB 3.0) and 4 SATA 6 Gb / s. Like its predecessor, the Intel H310 will enable dual-channel mode of access to RAM, while using one module per channel. You can count on such basic functionality by choosing the most affordable motherboards for Intel Core processors of the 8th generation.
Intel B360 for chips Coffee Lake is the assignee of a very successful PCH used for processors of previous generations of Kaby Lake / Skylake – Intel B250. And here already begins interesting. The number of lines PCI Express 3.0 and SATA channels remained at the same level – 12 and 6, respectively. But as for supporting high-speed USB, there is progress. The total number of USB ports has not changed – 12, but 6 of them can comply with the USB 3.1 standard. In this case, four of the six ports can be USB 3.1 Gen2 with a bandwidth of up to 10 Gb / s. One of the high-speed M.2 drives can be served by Intel RST, and Intel B360 boards allow using Intel Optane Memory, and the chipset is potentially ready for practical implementation of Intel Wireless-AC and Intel Smart Sound.
Intel H370 offers even more lines of PCI Express 3.0 and high-speed USB ports. The table does not indicate, but for certain, this PCH, in contrast to the lower chipset of the line, also allows creating RAID 0, 1, 5 and 10 arrays. For updating corporate platforms the manufacturer also introduced the chipset Intel Q370 . As you can see, it offers even more functionality, including Intel vPro remote management technology.
Motherboards
Motherboard manufacturers have been very well prepared for today's platform upgrade. For them, this is a good opportunity to increase sales and that, at the start of sales of new solutions for Coffee Lake, the interest of potential buyers is not lost, all key players in this market have tried to maximally offer the widest range of devices. From the abundance of the boards, the eyes are scattered, but this is the case when the efforts with the choice of a specific device are more enjoyable.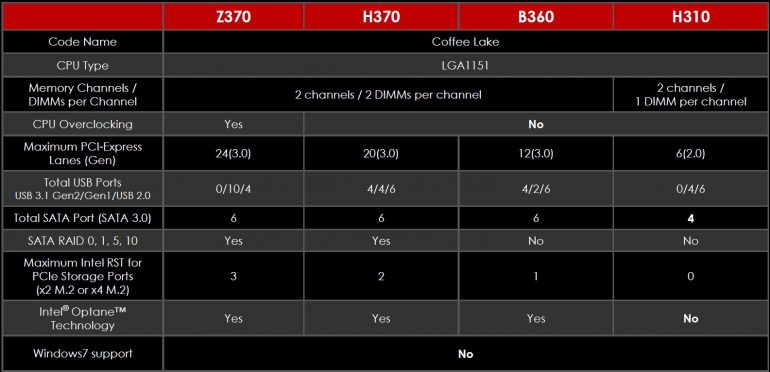 Recall that until today everyone who wants to use Intel Core 8-th generation had to buy motherboards boards on the top-end chipset Intel Z370. This is natural when such a model is purchased in pairs with a chip with an unlocked multiplier, but for models without an "K" index in the name, the functionality of such boards, as well as their price, is clearly redundant. Within six months of the announcement of the desktop Coffee Lake, this situation was an unpleasant reality, which had to be tolerated. Now finally, when assembling a system with a new CPU, you can choose a platform that is suitable for price and equipment.
As we have already mentioned, the most affordable motherboards for Coffee Lake will be based on the Intel H310 chipset, which offer only basic functionality . Of course, often this will be a lot, but some unpleasant limitations can still be avoided. It's only two slots for memory modules, and the lack of a built-in USB 3.1 Gen2 controller, and the modest connectivity of M.2 high-speed drives. Intel H310 motherboard will be uniquely found. Let's hope that the most affordable models can be bought for $ 60-70.
However, for optimal configurations, of course, more functional motherboards based on Intel B360 look more interesting. Despite the dual positioning of the chipset, there can be no doubt that the models on this PCH will be very popular among users of home desktop systems.
The first models on the Intel B360 – ASUS ROG STRIX B360-F GAMING and MSI B360 GAMING ARCTIC. Each is interesting in its own way.
ASUS ROG STRIX B360-F GAMING
The full-size ASUS model draws attention to the massive radiator cooling units and a large decorative cover over the interface panel, which, by the way, immediately secures the cover for the housing wall – The reception previously used for older models.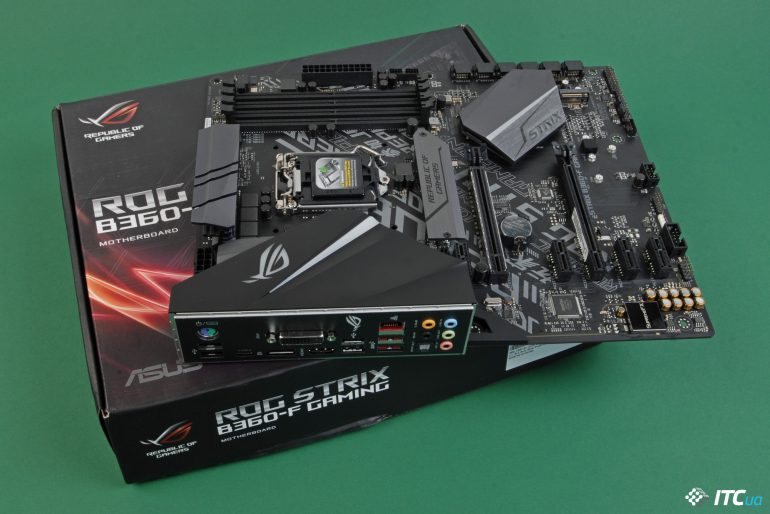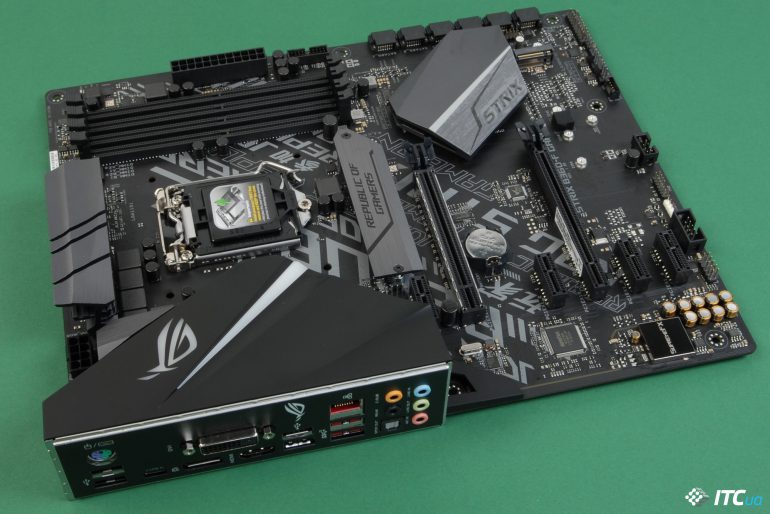 ASUS ROG STRIX B360-F GAMING offers two slots for M.2 drives, one of which has a cooling heatsink. Six SATA ports are lined up in one tier along the right edge of the PCB. The model is equipped with a network controller Intel i-219V and a top audio codec Realtek S1220A, which support additional preamplifiers.
It was curious to know how the developers ordered the chipset resource for USB 3.1 Gen2. As it turned out, three channels are involved. Two corresponding USB Type-A ports are located on the interface panel and there is another compact USB Type-C with a bandwidth of up to 10 Gb / s. The panel contains a full digital video output port – DVI-D, HDMI and DisplayPort, for acoustics, optical S / PDIF is provided.
By the time the new chipsets for Coffee Lake were launched, ASUS had prepared about a dozen motherboards on the PCH. In the context of inexpensive solutions, the PRIME series is expected to be widely available. The ROG STRIX series in the first stage includes two models. In addition to the ASUS ROG STRIX B360-F GAMING that came to our review, there is also a model with similar equipment based on Intel H370 – ASUS ROG STRIX B360-F GAMING.
MSI B360 GAMING ARCTIC
Supporting and expanding the range of motherboards of the series ARCTIC, MSI remains the mainstay of fans of original solutions, wishing to assemble the system in a snow-white setting. In the case of the MSI B360 GAMING ARCTIC, it's easy to guess on which chipset this full-format model belonging to the Performance Gaming line is based.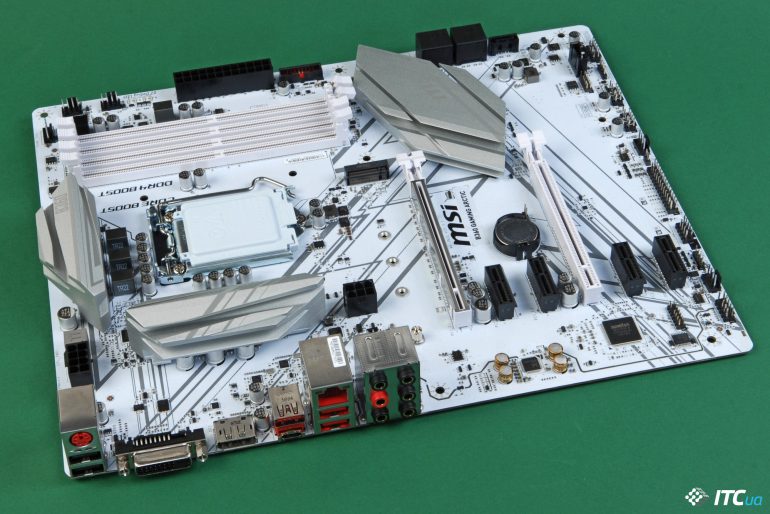 In addition to the contrast board, large radiators on a chipset and all power elements can be immediately noticed. The slot for high-speed drives M.2 is here alone, no additional cooling is provided. In the central part of the PCB, it's easy to see the 6-pin connector for additional power on the PCI Express slots. It would seem that there is nothing to do with mining, but there are different cases. Today you play jazz, and tomorrow …
Seven 4-pin connectors for configuring the cooling system also seem to hint that the MSI B360 GAMING ARCTIC is ready to work in different conditions. The board features six expansion slots – a pair of PCI-E x16 (x16 + x4) and four PCI-E x1, as well as five SATA. On the interface panel developers have deduced two native USB 3.1 Gen2 ports (10 Gb / s). One is in Type-A format, the other is Type-C. Nearby there is another pair of USB 3.1 Gen1 and two USB 2.0. Digital interfaces DVI-D and DisplayPort can be used to connect display devices, and for acoustics there are six 3.5-millimeter jacks.
MSI thoroughly prepared for the announcement of new chipsets for Coffee Lake, offering at once almost three dozen different models. The Performance Gaming and Arsenal Gaming lines expect the maximum accent for devices with the Intel B360 chipset, but in the PRO series – the extra-high concentration of the boards on the Intel H310.
Other motherboard market participants also presented their solutions, because they want to acquire a relatively inexpensive platform for processors Core 8-th generation will be of what to choose. If possible, we will try to facilitate this difficult process by examining in practice the possibilities and features of the work of models on the new PCH.