Intel announced the expansion of its Intel Xeon processor portfolio. So, Cascade Lake-AP (Advanced Performance) and Intel Xeon E-2100 devices have been announced. At the same time, only chips of the second family oriented to use in entry-level servers are commercially available products. In the case of Cascade Lake-AP, the announcement is paper-based, actual chips will only be available in the first half of 2019.
The Intel Cascade Lake-AP processors are multi-chip solutions combined under one cover using the Ultra Path Interconnect (UPI) bus. Detailed specifications of such devices have not been disclosed. It is only known that the flagship model immediately received 48 cores, support for Hyper-Threading and 12-channel DDR4 memory access. Cascade Lake-AP chips are a new class of Intel Xeon Scalable processors, focused on high-intensity computing, artificial intelligence, and IaaS projects (infrastructure-as-a-service).
More details will be revealed later. So far, Intel has been assuring that the Cascade Lake-AP processors in the Linpack test provide a 1.21-fold increase in performance compared to the Intel Xeon Scalable 8180 chip and 3.4-fold compared to the competing AMD EPYC 7601 solution. And in the Stream test Triad increase in Cascade Lake-AP reaches 1.83- and 1.3-fold values, respectively.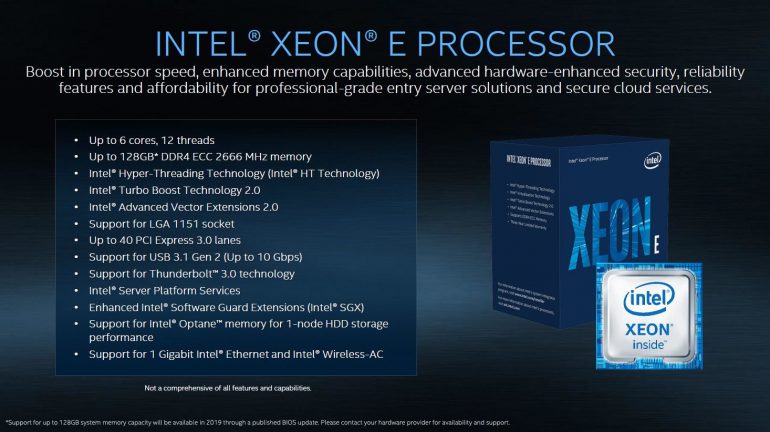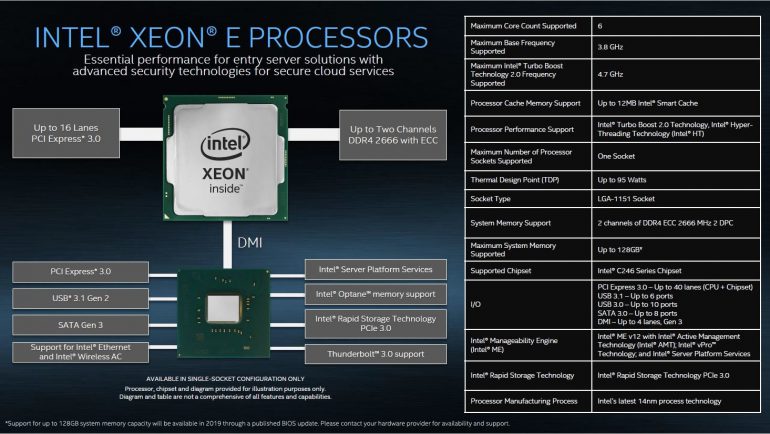 The Intel Xeon E-2100 processor family is designed for use in small and medium businesses. These chips implement hardware security and control functions to further protect data and customer applications. Their detailed specifications are presented in the table.
Processors of the Intel Xeon E-2100 series are already available for order from Intel itself or distributors.
Source: techpowerup