As is known, next month (October 1) new desktop processors Intel Coffee Lake Refresh (Core 9000), which we already know almost everything. Recall, will lead the family model Core i9-9900K (8 cores / 16 streams, 3.6 / 5.0 GHz), but with it debuts another model Core i7-9700K (8 cores / 8 streams, 3.6 / 4, 9 GHz), which will be deprived of Hyper-Threading support. And now the Core i7-9700K was lit up in the Geekbench software base, which allows us to find out just about what performance feats the novelty is capable of.
First of all, we note that the motherboard of the Gigabyte Aorus Z370 Ultra Gaming 2.0 was the basis for the test stand, which confirms the compatibility of new CPUs with all the Intel 300 series logic chips after updating the corresponding UEFI firmware.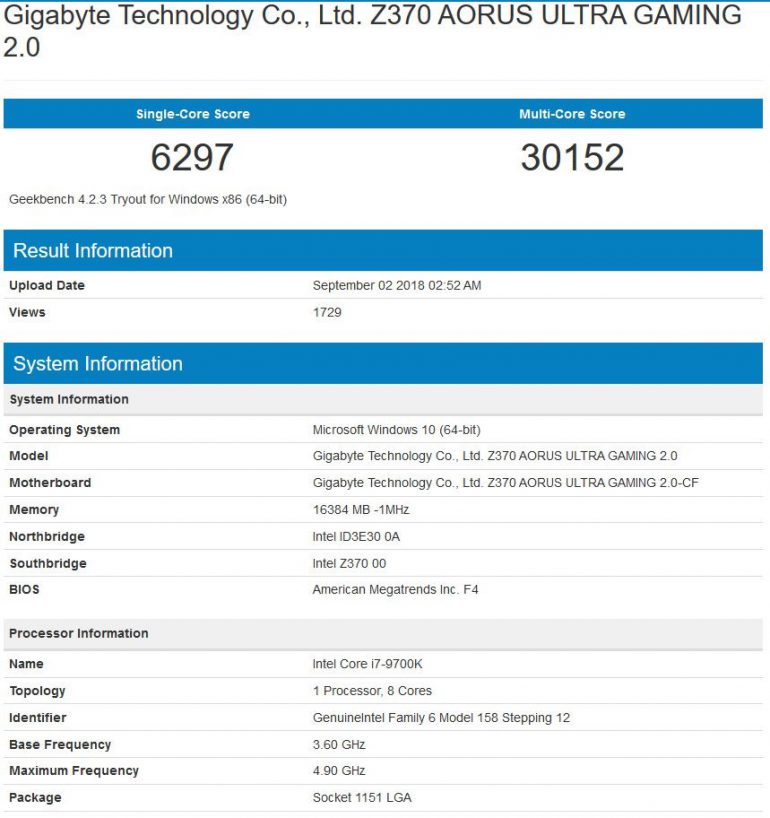 Now to the tests: the single core performance of the Intel Core i7-9700K is 6297 points, the multi-core – 30152 points. And this is approximately 10-12% more than the predecessor i7-8700K. For comparison, the AMD Ryzen 7 2700X (8 cores / 16 streams, 3.7 / 4.3 GHz) passes this benchmark with average results of 4823 and 26341 points respectively. That is, the upcoming chip of Core i7-9700K in this synthetic test was about 15% faster than the current flagship for the desktop platform AM4.
Recall that from current models the new Intel desktop processors for LGA 1151 will differ only slightly higher frequencies. In addition, the older models of Intel Coffee Lake Refresh will definitely get the solder under the lid instead of the "thermal box".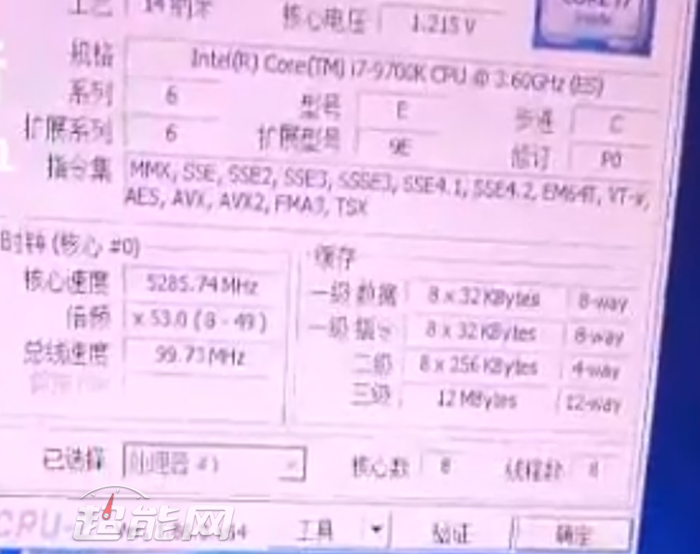 By the way, our Chinese colleagues from EXPREview also told us that they managed to overclock the Core i7-9700K in the "air "To a frequency of 5.3 GHz, while maintaining the performance of all eight cores. The voltage on the core thus reached 1,215 V. Actually, this result confirms the higher overclocking potential of the novelty, achieved due to the solder between the crystal and the processor cover.
Source: techpowerup