Details about the characteristics and live snapshots of the AMD Radeon VII video card presented yesterday, which is the first consumer gaming model with a semi-GPU. Recall, AMD Radeon VII will go on sale on February 7 with the recommended price of $ 700.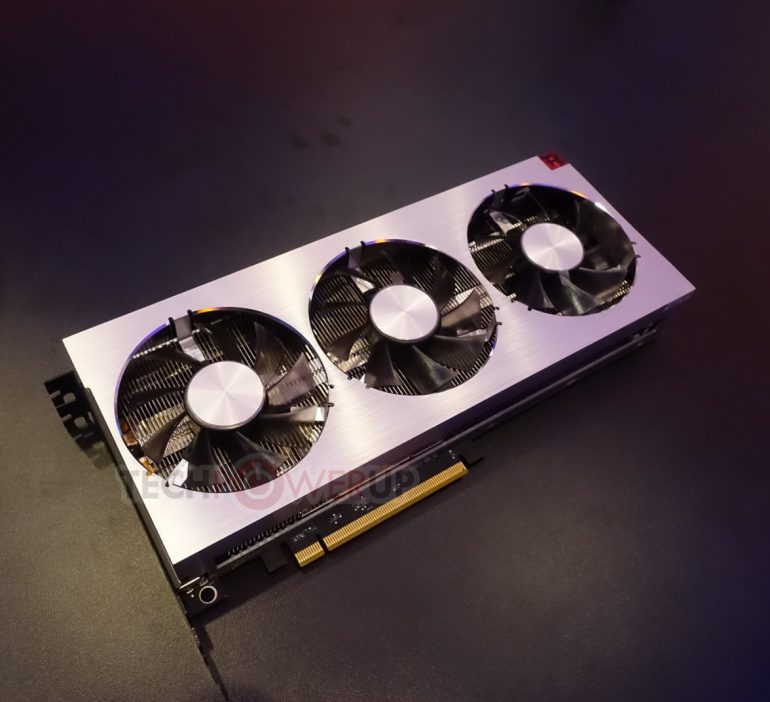 At the presentation, AMD pointed out that the GPU Vega II, which is the basis of the new red flagship, has a frequency of 1.8 GHz. But this value is "peak frequency". That is, the adapter will work at such a high frequency only in some isolated cases and individual applications. The usual operating frequencies of the AMD Radeon VII GPU are in the range from 1,450 MHz to 1,750 MHz. The performance of AMD Radeon VII in single-precision calculations (FP32) is 13.8 TFLOPS. The Radeon RX Vega 64 released a year and a half ago with a 14 nm Vega 10 GPU, this parameter is 12.7 TFLOPS.
The AMD Radeon VII GPU has 16 GB of multilayer memory HBM2 operating on a 4096-bit bus at an effective frequency of 2000 MHz, which gives a high bandwidth of 1 TB / s.
AMD Radeon VII for work requires the connection of two eight-pin power connectors that can transmit up to 375 watts of power. The nominal TDP of the novelty, despite the 7-nm process technology, is the same as that of the predecessor Radeon RX Vega 64 – 300 W. But the cooling system for AMD Radeon VII was completely redone – the liquid CO and evaporator chamber with a radial fan (Radeon RX Vega 64 was offered in two versions – air and water cooling) were replaced by a classic massive radiator with three traditional ~ 90 -mm fans. Also note the metal casing, the heat distribution plate on the back with slots forming the original design and the illuminated logo on the side.
There are only four video outputs on the AMD Radeon VII mounting plate: three DisplayPort and one HDMI. That is, the USB Type-C connector, which is present in the current generation of NVIDIA gaming graphics cards and provides a simple connection of VR headsets of the next generation according to the VirtualLink standard, was not received by the new Radeon VII graphics card. And this is very strange, given that AMD is part of the consortium VirtualLink.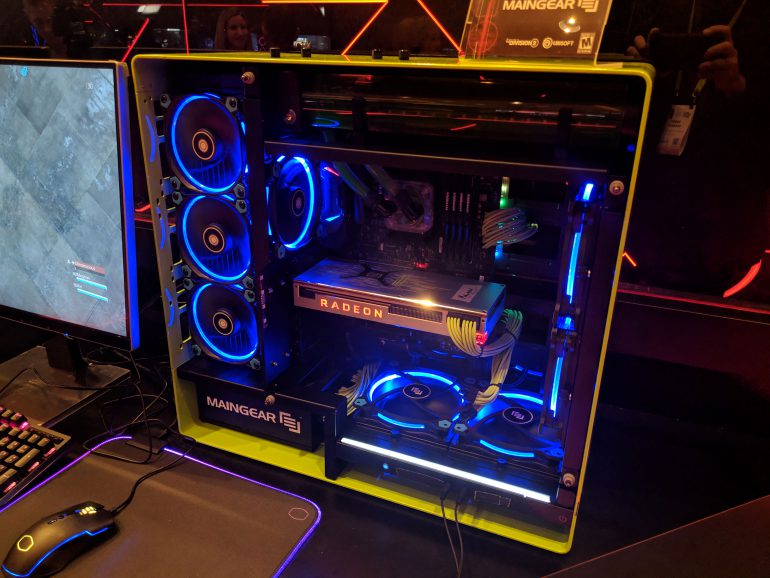 Now we are waiting for the first independent tests.
Source: TechPowerUp and PCGamer