Yesterday NVIDIA lifted the ban on publishing reviews of the first game graphics cards on the architecture of the new Turing – GeForce RTX 2080 and RTX 2080 Ti – and thematic resources in a single rush flooded the network with relevant materials. Very soon we will have our review, but for now, we offer to familiarize ourselves with the results of testing models with reference frequencies and versions of Founders Edition, obtained by foreign colleagues. German resource 3DCenter, comparing data from 25 reviews of different thematic resources, created a table that allows you to get a more or less complete picture of the performance of new "green cards."
As a starting point for comparison, journalists took the results of last year's flagship GeForce GTX 1080 Ti. That is, the level of performance of the GeForce GTX 1080 Ti was taken as a conditional 100%. For a more vivid comparison, the Titan Xp and 1080 indicators as well as the competing Radeon RX Vega 64 solution were added to the table. Actually, you can see everything with your own eyes in the table below.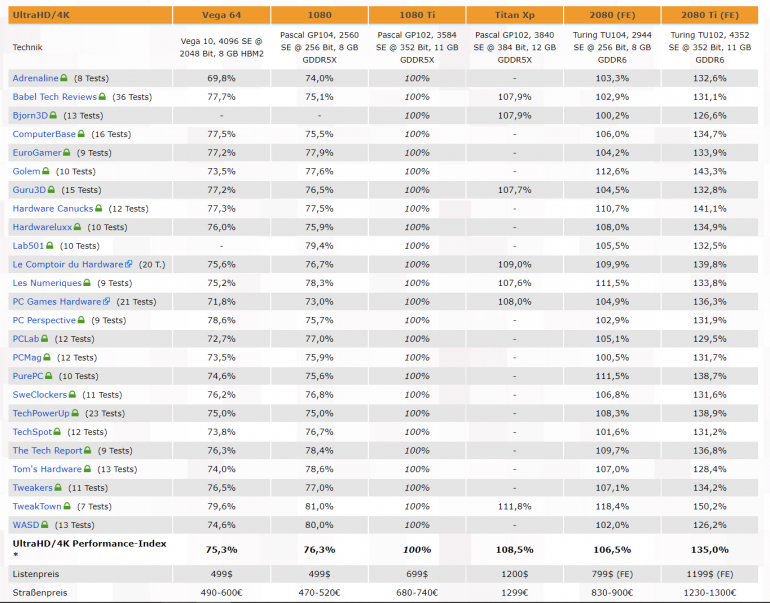 It turns out that on the basis of 25 reviews and more than 300 tests, the performance gain in the GTX 1080 Ti / RTX 2080 Ti pair is on average 35%. Only one resource managed to get 50%. If you compare the results of a pair of GTX 1080 Ti / RTX 2080, then the increase is modest 6.5%.

Yes, we are talking about the average indicator, and in some applications the result is likely to be higher. But it's a little embarrassing to see how much the new "green" cards that get the hardware acceleration of ray tracing are more expensive than the old ones. Recall, the GTX 1080 started from $ 600, and the GTX 1080 Ti – from $ 700, while the reference RTX 2080 and RTX 2080 Ti are estimated at $ 700 and $ 1000 respectively, and the reference versions of the Founders Edition are $ 100 and $ 200 more expensive. And our prices are even higher: 19990, 26990 and 39990 UAH for RTX 2070, RTX 2080 and RTX 2080 Ti, respectively. It's about recommended Ukrainian prices.
Source: 3DCenter