So far, ARM-based laptops are a rare phenomenon. But in a year or two the situation may change. The company expects that future architectures will provide such a performance boost to its chips, that they will be able to surpass the mobile processors of Intel, and, accordingly, become more interesting to users.
ARM believes that the chips based on the recently presented Cortex-A76 computing core already can compete on an equal footing with the mobile economical processor Intel Core i5-7300U, operating at a frequency of 2.6 GHz. Moreover, the company expects that the new architecture of Deimos (scheduled for 2019) and Hercules (scheduled for 2020) will be able to completely bypass the performance of mobile CPUs from Intel. At the same time, users will get high performance, customary for laptops, from more energy efficient chips.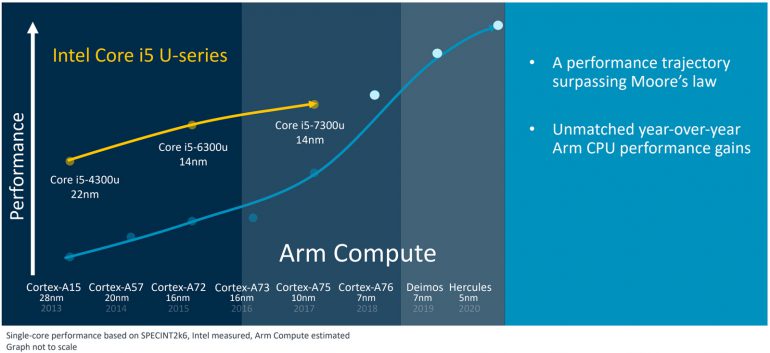 Of course, such statements of the manufacturer should be taken with a certain amount of skepticism. ARM compares the Cortex-A76 to the Core i5-7300U, while the eighth-generation Intel model received twice as many processing cores and added significantly in terms of performance. In addition, these comparisons are based on the synthetic test SPEC CINT2006, which measures the performance of integer computational tasks. To get a clearer picture, more extensive testing is needed, including benchmarks that measure performance in floating-point calculations, and tests in real operating modes.
In any case, Intel risks acquiring another competitor in the market for processors for portable computers . And while Intel is stuck on a 14-nm process and again postpones the appearance of 10-nm processors, ARM is already talking about the imminent appearance of 7- and even 5-nm chips.
Source: Engadget