It's no secret that very soon Intel will officially unveil the first trio of the processors of the "Coffee Lake Refresh" family, bringing eight-core models to the desktop consumer segment Core i9 and Core i7. Their characteristics are already well known to us, and this morning we studied the new test results of randomness of future chips. Now the network has data indicating that AMD has already managed to prepare a response to the new flagship of Intel. However, there are reasons to doubt the reliability of this information.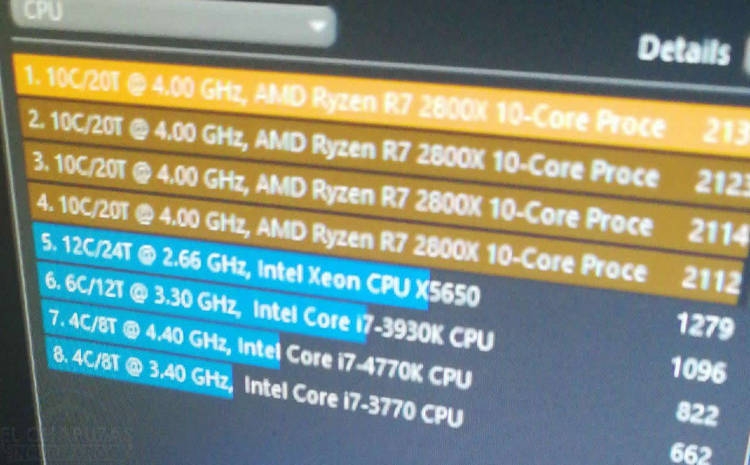 The network got a picture of the screen with the results of testing the processor with the index "Ryzen 7 2800X", which allegedly is this answer. Initially, this model was all waited with Ryzen 7 2700X and Ryzen 7 2700, but the latest news indicated that AMD eventually found this third CPU "superfluous."
As you can see, in the screenshot, the result of Ryzen 7 2800X in the multithreaded Cinebench R15 test is about 2130 points. For comparison, if you believe the last leak, Core i9-9900K dials in Cinebench R15 about 2200 points. That is, the processors for performance are approximately at the same level. Here it should be taken into account that speech is most likely about engineering samples of processors, so the final versions should have even higher results. But much more interesting is another: Ryzen 7 2800X is a processor with ten physical cores and twenty computational flows. The screenshot shows a frequency of 4.0 GHz.
As for the doubts mentioned at the beginning, it is not known how AMD managed to add two more cores to the eight that are typical for the current models. It is unlikely that the company would develop a new crystal for the sake of one model. In addition, the increase in the number of cores is expected only in future processors with the architecture of Zen 2, which will be produced using a 7-nm process technology and are expected only next year. Remains the option of combining two crystals of the Pinnacle Ridge generation, similar to the Ryzen Threadripper chips. And if so, this is the first time AMD has configured Zen or Zen + crystals in this way, using an odd number of cores.
Source: El Chapuzas Informatico